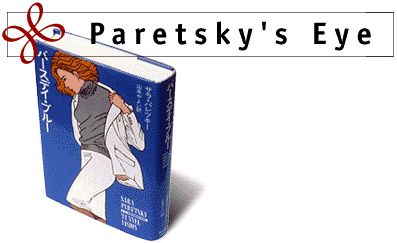 Maki Hirotsuji
Vic and the Era of Women Private Investigators
Have you heard of V. I. Warshawski, one of the most famous private investigators in Chicago? Smart capable, tough-talking, beautiful, managing an investigating agency by herself and always finding herself involved in the problems of other people, that's V. I. (for Victoria Iphigenia, aka Vic, but never Vicky).
Warshawski, who debuted in INDEMNITY ONLY in 1982 (1985 in Japan), was not the first fictional woman PI. Marcia Muller's Sharon McCone began sleuthing in San Francisco five years earlier. As early as the 1960s Giselle Marc and Kathy Onoda worked as equals among shrewd re-po men at Dan Kearney Associates. In the United Kingdom, Liza Cody's Anna Lee started investigating in 1980. But 1982 was a watershed year. That year Sue Grafton introduced Kinsey Millhone in A IS FOR ALIBI set in fictional Santa Teresa, California. Both A IS FOR ALIBI, and IINDEMNITY ONLY were highly praised. The era of women private investigators had arrived.
V. I. Warshawski is a remarkable woman. Her office is on the fourth floor of an old, neglected building in a dangerous area of Chicago. The elevator rarely works, so Vic uses the stairs to reach her office. She makes electrical repairs and fixes the plumbing in the restroom. She has a special bar and grill where she enjoys solitary meals of good beef steak and Johnnie Walker Black Label. The hangover is her friend. She is divorced, an ex-attorney, an expert in karate. Once, when she had quarreled with the Mafia and was knocked down by the Mafia boss, she kept her promise to continue working the case she involved in by dating a guy who could give her information . Allen J. Hubin wrote of her, "She is a left-wing Mike Hammer in a bra."(The Armchair Detective, Vol. 21. No. 2., "AJH Reviews"). Many readers of traditional hardboiled detective stories rejected her because she was very active and too hard-driving and vulgar for a woman. But Vic always becomes deeply involved in her cases while struggling against her own conservative relatives and the pressures of society.
Today Sara Paretsky is highly regarded. "Along with Sue Grafton and Patricia Cornwell, Paretsky is one of the few American women mystery writers who consistently receive serious critical attention and acclaim for their novels." (KILLER BOOKS, Jean Swanson and Dean James, 1998) "One of the most successful of the hard-boiled women writers to emerge in the 1980s." (ENCYCLOPEDIA MYSTERIOSA, William L. DeAndrea, 1994). Her BLOOD SHOT (TOXIC SHOCK, in the U.K.) won a Silver Dagger from the British Crime Writers Association in 1988. She has edited short-story anthologies, including A WOMAN'S EYE, which won an Anthony Award in 1992. Moreover, because the trail blazed by Vic and Kinsey, the first famous women private investigators, many more women PIs have appeared in mystery fiction in the 1990s. Good examples are Janet Dawson's Jeri Haward, and S. J. Rozan's Lydia Chin and her sometime-partner Bill Smith. They investigate crimes in Oakland and New York with more freedom and assurance than their predecessors.
Sara Paretsky
Now it's the time to introduce Sara Paretsky, who created Vic. She was born in Ames, Iowa, on June 8, 1947. She holds a B.A. in political science from the University of Kansas and a Ph.D. in history from the University of Chicago. She worked as the publications and conference manager for Urban Research Corporation, as a freelance business writer, and as manager of direct mail marketing programs for CNA Insurance. Since 1986 she's been a full-time writer. She took a course in writing from Stuart Kaminsky, who is very famous in the mystery and cinema fields (his novel series are: Abe Lieberman; Toby Peters; Porfiry Petrovich Rostnikov). It's hard to believe Paretsky's first novel was rejected by more than 10 publishers. Since INDEMNITY ONLY, many people around the world read about Vic's cases and are encouraged by them. In Japan, definitely, many women who toil through their daily lives, applaud Vic.
Paretsky's Eye
Vic's series is, obviously, descended from traditional hardboiled detective novels (or rather, PI novels, because the definition of hardboiled is very ambiguous). But I'd like to add two distinctions from other traditional writers in the field.
First, as a PI, Vic cannot remain aloof from others as Philip Marlow does. Vic, who has a Polish-American father and Jewish-Italian-American mother, never forgets her heritage, her childhood, her background, or her old friends. In many traditional PI novels the cases are related to the client's or the victim's complicated family life or to nearly forgotten past cases. Those investigators keep the characters in each case at a distance and remain more or less detached. Vic's cases are mostly related to her own family or friends. Even if it's not such a case, she always thinks about her heritage and her late parents. She never looks on the cases with folded arms. As a result, Vic has had her feelings hurt and she has hurt people who are very special to her, which always depresses her. Vic carries heavy emotional baggage, but still she perseveres to solve her cases.
Second, even though a case may begin as one of Vic's "family problems," it always ends up as more than a personal case, usually involving insurance fraud, abortion, poverty, homeless people, etc. In novels and short stories, Vic has stepped into serious social problems. No case ever ends up as a "tragedy of a good upper class family." This means Paretsky herself is concerned with social problems. Her books make readers think about those social problems. Some readers may think these kinds of books are too heavy to read for fun, while others may compare the stories to their own problems or reconsider their own opinions about a social problem.
Paretsky helped found Sisters in Crime (SinC) in 1986 and served as the first president. The purpose of SinC is to improve the position of women writers in mystery field. Now there are more than 3000 members, with 39 chapters in the U.S., two in Canada, and one in Germany.
In private life, Paretsky has supported herself since age 17. She married in her 20s. Her husband is a physicist, Courtney Wright. She reared three boys, the sons of Mr. Wright and his late wife. While working for an insurance company, she wrote novels and sang soprano in a choir. Now she's also a grandmother. On her homepage you can see a photographs of Paretsky and her grandchild.
Vic in Future
Please don't think that reading Vic's stories is like having a date with a radical feminist. The real Vic loves cooking, doesn't like chores, hums arias (her part is alto) when she's in good humor, and is very warm to her friends. Now, At age 40, she's worried about aging. (Who among us is not concerned about growing old?) Many readers believe that she will manage quite well with her dog, Peppy, even though she lives all alone.
We haven't seen a new Warshawski novel for a while, but we believe Vic will come back. Paretsky herself said that clearly in an interview on her homepage.
It may be a good idea, then, that we take another look at Vic now.

(This short essay was made with much help of Ms. Mary Terrill. But Maki Hirotsuji is responsible for all about this.)